THE SEO & CONTENT
MANAGEMENT STRATEGY
TEMPLATE BUNDLE
Slash the time you spend on managing your  SEO and Content Creation by 50%. Stop wasting your money testing 'tips' that don't stick. Get started by dropping these templates in your basket today. 
$299 worth of our best-performing SEO & content templates for only $37
Built by SEO & Content Experts That Partner with Brands Like These
We're passionate about making sure your content is actually doing something for your business. Consider this template bundle your content Swiffer duster – here to get your content moving again aka bringing in organic traffic and leads. 
This is our easy no-brainer pack that is built to make running your business just a little easier.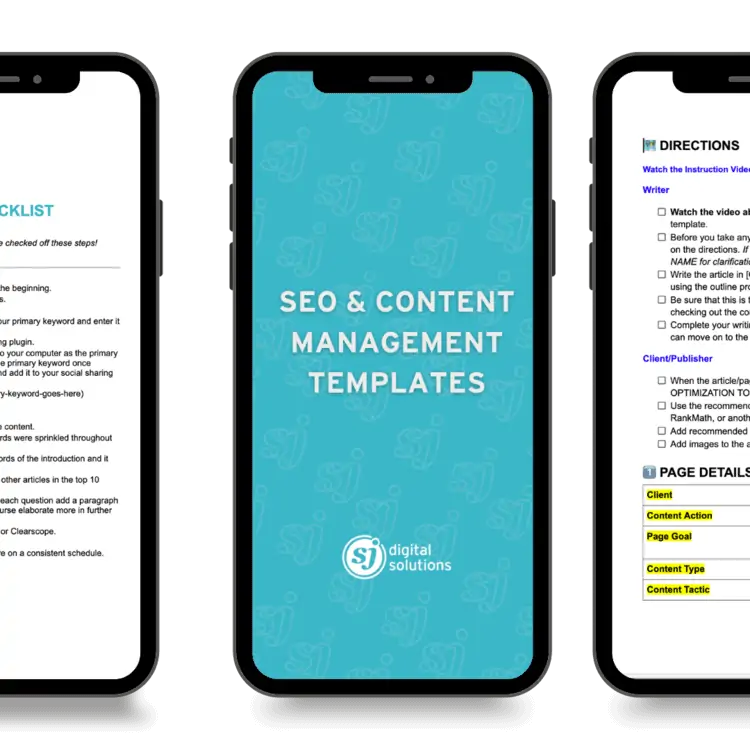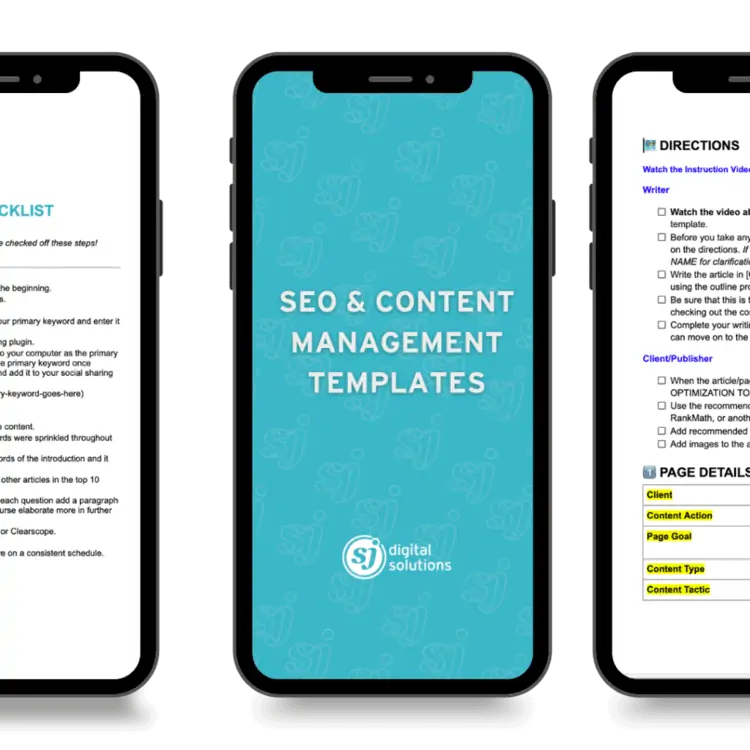 We're giving you access to our team's best-performing templates that we use daily to skyrocket our clients' traffic by 234X.
For just $37, you get our behind-the-scenes tools that have helped our clients skyrocket their growth and increase their leads.:
6 SEO Templates 

6 Content Management Templates 
+ all of our free resource guides for gearing your content toward growing, and an opportunity for 1:1 support from our team which will take your SEO and Content Creation to the next level
PREMIUM TEMPLATES TO AMPLIFY YOUR
SEO-POWERED CONTENT.
One steal of a price tag. 
You save $262.
WHO'S THE SEO & CONTENT MANAGEMENT
STRATEGY TEMPLATE BUNDLE FOR?
The bundle is meant for you:
You need to start somewhere when it comes to organizing your content. 

You want a framework for building content that will actually convert. 

You are the ultimate DIYer and know you can snag it and use it. 
This bundle isn't for you if:
You need a completely curated content plan. 

You don't want to try and figure it out yourself. 

You are ready for a full scale SEO growth plan and execution. 
P.S. If this is you, we can absolutely help. Just head over here and get the conversation started. 
Keyword Research Tracker

SEO Getting Started Checklist

SEO Publishing Checklist

SEO Audit Checklist

Link Building Campaign Tracker

Analytics Tracker
CONTENT MANAGEMENT TOOLS:
Article Workflow Tracker

Content Brief Template

HARO Pitch Template

Guest Post Pitch Template

Affiliates Tracker

Sponsorships Tracker
STREAMLINE & OPTIMIZE
YOUR CONTENT PROCESSES
These are 12 of our most used systems, and for good reason.
The bundle is filled to the brim with templates that you'll be able to use for your business the second you purchase – no more waiting around for the perfect time to get optimized or organized.  Checklists, trackers, and scripts are all a part of the mix.
Cheers to your business and all the stress-free content you can create with these assets at your fingertips.