Content Creation Education
The step you've been missing for creating SEO-optimized content that converts.
Learn how to use the content brief method – our signature tested and proven process that has helped our clients scale their websites to 52x their traffic for over 5 years. 
"A content brief is more important than actually writing the copy for your article or blog post."
A bold statement, but one that our founder, Sam, knows to be 100% true. The content brief process has been perfected over a period of 5+ years and has scaled client websites by 52x in less than a year. THAT is why we use this exact method with every single one of our done-for-you content creation clients. 
And now, you can add this skill to your content creation tool belt today. 
You can snag this training for only
$77
How do you plan your content?
Most bloggers and business owners we talk to have a process that looks something like > late night ideas + sporadically picking keywords from Ahrefs then handing this idea to a writer or pulling the copy together themselves and hitting publish. 
The results often = crickets from Google and that translates to your time wasted. 
How do you plan your content?
Instead, your process could be streamlined with our signature content brief method and you would know: 
The exact steps to follow for choosing a topic and keywords that you could rank for

The secrets of the best SEO software and how to use it to craft your content briefs 

How to cut your publishing time in half with an efficient system in place 

An easier way to manage your team of writers and give them the structure they need to ensure your company is 'seen' by Google.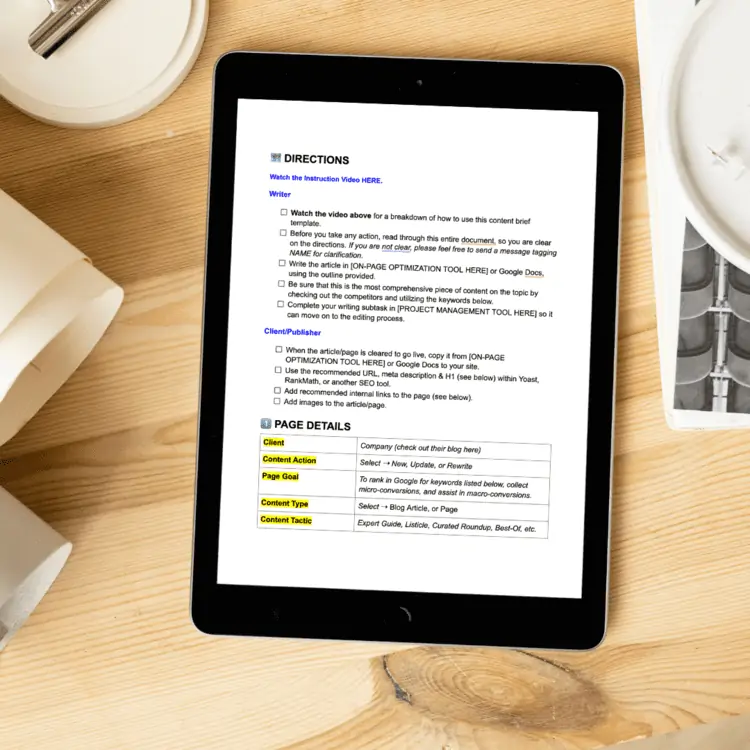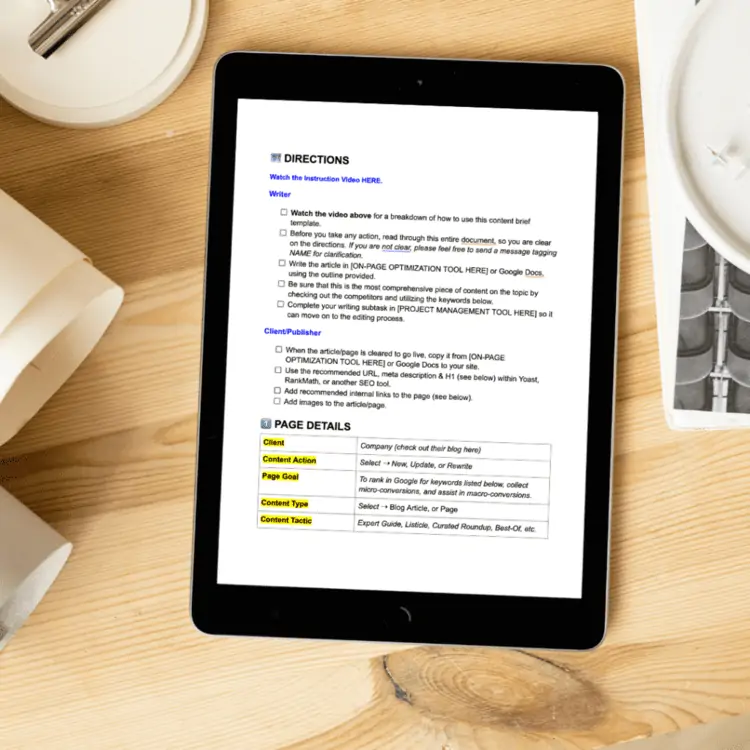 This content creation training is only $77 but has tested and proven results – on repeat. 
The Content Brief Results
Create In-Depth Content Plans for Incredible Content Results
This content brief training was built for those who aren't ready to invest in done-for-you content services, but want an effective way to DIY their articles and blog posts using proven methods. 
Here's what's included in the Content Brief Training:
Evergreen video training

The signature content brief template we use for our own clients

Tips on the best SEO software to use to craft your content briefs

Tricks to use with your new process that will cut the publish time in half.

How to manage content briefs with a team of writers.
+ You have the opportunity to add on 1:1 support and get our eyes on your first content brief! 
Consider us your visibility specialists 
If this were LinkedIn, we would tell you that
Sam has:
Bachelors of Science in Finance and an MBA

Experience at Vanguard, including passing Series 7 & 63 licensing exams
& John has:
Software Engineering Education 

15+ years of experience building websites and experience in the financial services industry
But Our REAL Resume Lies in What We Built Toegther
We've scaled our finance blog, How To FIRE, to over 75,000 page views per month with over 20,000 social media followers & email subscribers. In August 2020, Mediavine could not help but notice us, and we added them to the ways our site provided us with recurring revenue. 
Having proven our skills, we then turned our expertise into brand work with:
Our clients continue to be...
Banks

Credit Unions

Alternative Lenders

Subprime Lenders

Payday Lenders

Mortgage Lenders

B2B Lenders

Asset Management Firms

Personal Insurance Providers
Business Insurance Providers
Credit Card Companies

Credit Repair Companies

Real Estate Investors
Real Estate Brokers
Investment Bankers
Real Estate Agents
Property Management Companies
Real Estate Crowdfunding
REIT Providers
Investing Platforms and Apps

Fintechs

Financial Planners (CFPs)
Financial Advisors

CFAs

CPAs , Accountants, Tax Preparers, & Tax Strategists

Bookkeepers

Virtual CFOs

Financial Coaches

Financial Educators

Financial Speakers

Finance Authors

Money Experts

Financial Blogs, Podcasters, & YouTubers
With us, you are learning from experts who truly care. 
Content Brief Training Is Delivered
First things first, you need to snag the training. Click on any of the buttons here, and then you will be taken to a checkout page.
On the checkout page, you will have the chance to opt for 1:1 support. This means you will receive our eyes on your first set of 5 content briefs to ensure you're executing the process right the first time!
You will receive a link via email with your video training directly after purchase. This will teach you our signature process. You will also receive our content brief template so you can begin your work right away.
Let's Get Those Questions Answered
Take it from your SEO experts, This is the key to getting your content right
Whether you're writing the content yourself or you have a writer, this is the training that will help you build in-depth, detailed plans so your content is rock solid and working for you.