Search Engine Optimization (SEO)
Growth for Financial Founders & real estate Experts Through the Power of SEO
Writing content without SEO is like typing that text reply and never hitting send – pretty hard for others to see and read. (We've all been there, are we right?)
We know your intentions are good, but Google doesn't care and Google is critical to your success. 
Not to worry, if you want your financial brand to grow by having your content rise through the ranks of Google, then you have come to the right place. 
The Secret Sauce to No Longer Send Words Into the Void? 
A Website That Converts Through the
Power of SEO
Imagine going from this....
Aimlessly dropping potential keywords into your spreadsheets and content
Having a potent keyword research strategy surrounding your content plan
A tiny trickle of primed leads and traffic
A wave of organic traffic that builds your authority in the financial sphere
A disjointed community, stifled in its growth
A trusted source of information and a thriving community
If you're wondering how this is possible, know that it totally IS.
Let's get your SEO strategy rolling.
Ready to Rank on Page One of Google?
It is not magic or 'luck' 
(which we think is pretty magical,  but not in the bippity, boppity, boo kinda way)
Ways We Can Help You Flourish & Grow with Google:
Your strategic approach to writing ranking content
For those who need a realistic content strategy to increase their organic traffic and grab their spot in the rankings.
Here's What You'll Get
Get a roadmap of 250+ primary keywords to target in your content through a Keyword Gap Analysis against your top five competitors
Timeline: 2 Weeks
The key to finding & fixing technical issues on your site
For those who want to ensure their site health and have the strategy to tackle issues with speed and confidence.
Working with what you've got to rise in the ranks
For those who are not seeing the kind of traction from Google they expected and would like a one-time swift SEO optimization of current articles.
Here's What You'll Get
An SEO audit to identify 5 articles that have the most opportunity for improvements in traffic and revenue.
On-page SEO optimization of those 5 articles for the primary keyword & NLP
Sourcing secondary and related keywords
Adding additional content, headers, and FAQs so the article is as comprehensive as the competitors and picks up on additional sources of traffic
Optimization of the title, existing headers, and meta-description as needed
Before and after reporting of changes made and SEO score increases
Inquire for bulk pricing
Timeline: 3 Weeks
Want us to do it for you?
If the idea of putting the SEO strategies into action with your content makes your palms sweat, we've got you covered with our content creation packages.
(Imagine that!) We are too, which is why we can show you the receipts.
Financial Advisor and CPA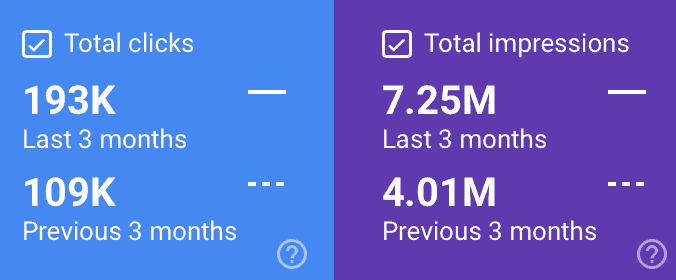 Our client who runs a financial and tax planning practice increased their total clicks by 88% and total impressions by 80% in JUST three months of working with us.
This same client also increased their monthly pageviews by 104% going from 55,255 per month to 112,551 per month in one year!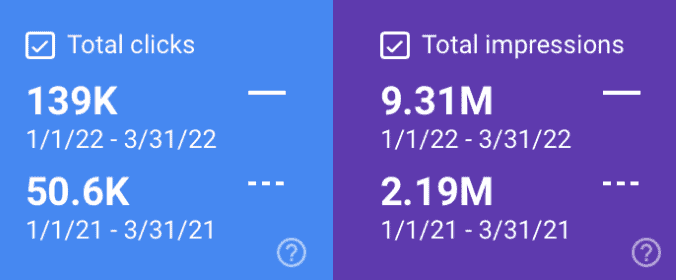 Our client who runs a financial blog increased their year over year growth by 275% working with us on the SEO Playbook, Optimization Takeoff, Link Building Rocket, and Content Grind packages.


Our client increased their total organic sessions by 47% and their total organic pageviews by 123% in just the FIRST month of working with us on the SEO Playbook and Content Kickstart packages.
After six months they're seeing 1,138% more users per month! (369 vs 4,571)
Real Estate Crowdfunding App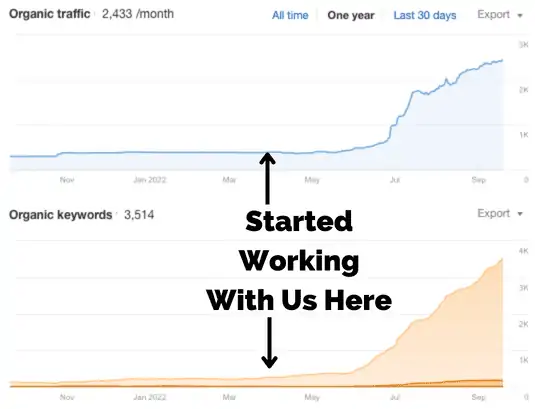 After three months, our client's organic keywords have tripled using our Link Building Rocket and Content Champion packages! Reaching six months of our partnership, they celebrated a 10X increase in traffic and ranking keywords!
SEO is not simple. There is no sugar coating it.
But with our team of SEO experts and content strategists, you can rest easy knowing that:
But did YOU know that? If you did, then you've done your deep dive into the SEO world and we see you! If not we've still got you covered, and you can hand your SEO needs over to us.
Consider us your visibility specialists 
If this were LinkedIn, we would tell you that
Sam has:
Bachelors of Science in Finance and an MBA

Experience at Vanguard, including passing Series 7 & 63 licensing exams
& John has:
Software Engineering Education (BS & MS)

15+ years of experience building websites and experience in the financial services industry
But Our REAL Resume Lies in What We Built Together
We've scaled our finance blog, How To FIRE, to over 75,000 page views per month with over 20,000 social media followers & email subscribers. In August 2020, Mediavine could not help but notice us, and we added them to the ways our site provided us with recurring revenue. 
Having proven our skills, we then turned our expertise into brand work with:
Our clients continue to be...
Banks

Credit Unions

Alternative Lenders

Subprime Lenders

Payday Lenders

Mortgage Lenders

B2B Lenders

Asset Management Firms

Personal Insurance Providers
Business Insurance Providers
Credit Card Companies

Credit Repair Companies

Real Estate Investors
Real Estate Brokers
Investment Bankers
Real Estate Agents
Property Management Companies
Real Estate Crowdfunding
REIT Providers
Investing Platforms and Apps

Fintechs

Financial Planners (CFPs)
Financial Advisors

CFAs

CPAs , Accountants, Tax Preparers, & Tax Strategists

Bookkeepers

Virtual CFOs

Financial Coaches

Financial Educators

Financial Speakers

Finance Authors

Money Experts

Financial Blogs, Podcasters, & YouTubers
Don't see your niche listed here? Chances are, we're still able to help. Let's chat.
We know this industry, even more importantly, we know
the strategies and structures required for your content to rank in Google.
Frequently asked questions
Stop Writing Words No One Will See
That one decision will directly affect your revenue goals.